Goulash, paprikash (pörkölt, paprikás)
Famous Hungarian goulash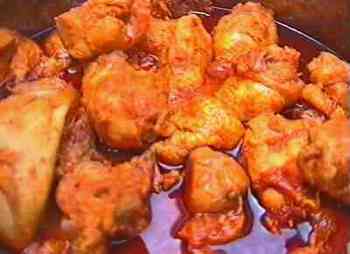 Pork pörkölt (Sertéspörkölt)
1,5 kg pork meat
100 g fat
3 onions
15 g Hungarian paprika
2-3 green peppers
2-3 tomatoes
garlic
salt

1. Heat the fat.
2. Fry the finely chopped onions till golden brown, add the paprika and a little bit of garlic.
3. Dice the meat and stew with these ingredient over a high heat till the water has evaporated.
4. Then add the green peppers and tomatoes.
5. Stew till the meat is tender.
6. Serve with galuska, or boiled potatoes.



Hungarian recipes -

Pörkölt (Hungarian stew) recipes
Others:
Version
Serve with rice, or other noudles.

Next:


Main site (index) - Favorit